---
Special Facilities that I have Designed, Modeled, and Analyzed using EASE®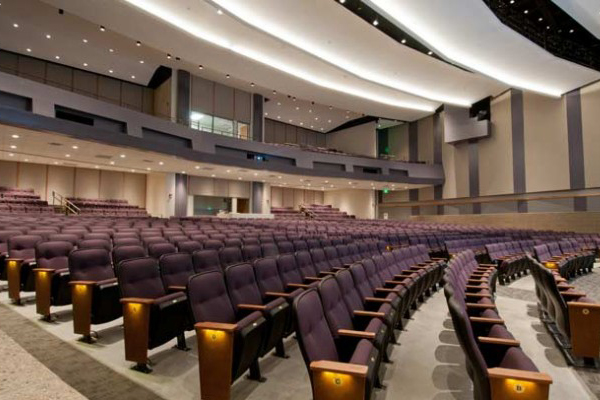 Norwalk, IA, Performing Arts Center 2017
Norwalk had us build a model from As-built documents to investigate the installation and proofing of a new sound system which consisted of:
Two (2) compact full range KV2 Audio SL412 units mounted in left/right front soffit.
Three (3) mid-high KV2 Audio ES 1.0 units mounted L/C/R in the rear soffit.
Four (4) [2 each location] KV2 Audio ESD25 units localized as fill units under balcony.
Three (3) KV2 Audio ESD25 units on front stage lip L/C/R as needed.
---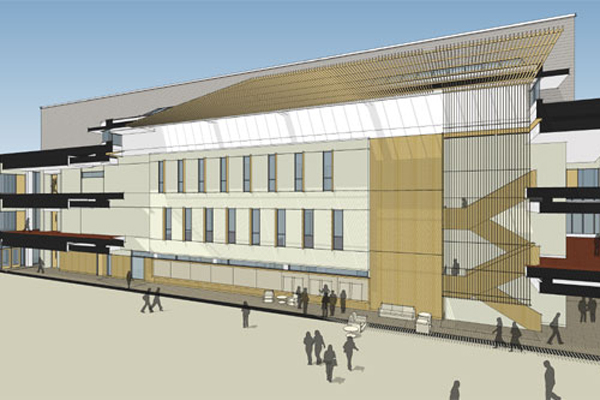 Gustavus Adolphus College, St. Peter, MN 2009
Gustavus Adolphus wanted an acoustic properties study that was a departure from the norm: determine the necessary treatment to abate internal foot traffic and extraneous conversation noise; to improving the privacy index and lend a degree of calm and intimacy in the entry atrium, which was 3 levels, each with open balconies.
The model was designed from 2D & 3D CAD drawings with the aid of interior architectural renderings. Esthetically pleasing materials were chosen and arranged to rim the upper walls on all three levels leading to classrooms and offices; alcoves, lobbies and gathering areas were appropriately treated for absorption, and highly diffuse elements were used to enclose the open staircase, layer on a portion of the great wall, and a diffusive/absorptive natural wood grid was specified to be spaced a short distance down from the atrium clerestory to treat the ceiling.
EASE Model analysis predicted excellent results with respect to privacy, low transmission of articulation and rapid speech responses, and nominally minimal reverb times for the volume of the space.
---
Watoto Theatre, Kampala, Uganda 2009
The Watoto Children's Theatre in Kampala, Uganda suffered from typical late 70's solid concrete construction, and the only treatment attempted was some acoustic tile on the balcony ceiling which had multiple coats of paint on it rendering it practically useless. The facility director wanted a design that would be inexpensive yet practical that could be implemented in sections and application of all phases of this acoustic design has been predicted to reduce low & mid frequency reverberation times by over 5 seconds.
Easily applied materials were chosen for sections of the undulated side walls in the seating area that would not interfere with the lighting fixtures in wall soffits, and designed to be installed by untrained, local labor. Additional highly resilient absorption will be applied to the walls and fly of the back stage area, steering clear of all existing rigging.
Ceiling clouds of resilient acoustic tile topped with encapsulated fiberglass batting on top will be the final phase, along with re-distribution and aiming of the existing JBL loudspeakers, with a pair on delay lines to feed the balcony.
The theatre serves as a local worship center, performance space, and occasionally for presentation of motion pictures in several formats.
---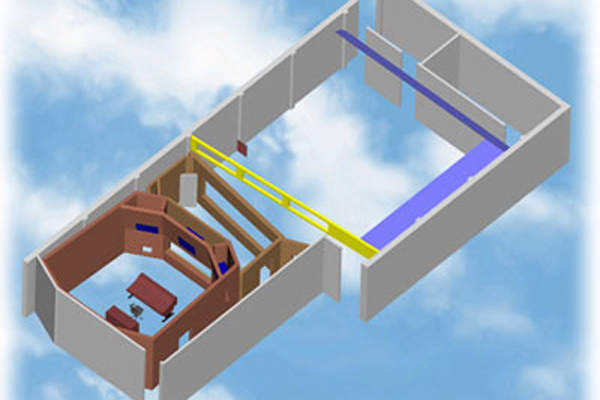 McPherson Studio 2004
North Central University wanted to expand their Fine Arts department to offer Recording Arts education and the recent acquisition of Mensing Hall served up the space to fit a studio into, along with twelve individual rehearsal rooms on the second floor. The control room had to provide adequate occupancy for class instruction and the studio needed to seat up to 100 for choir rehearsal and large section tracking. An isolation room was desirable to track vocals & overdubs, as well as allow the isolate the control room so that both spaces could be utilized simultaneously.
Working with the limitations of a 12 foot hard ceiling height, I designed a LEDE control room with diffusion that would allow the soffit mounted Westlake Audio BBSM-10 monitors to be heard without coloration or artifacts in the majority of the room, an iso room with dual glazed windows to allow sight lines into the main studio, and the large studio with a partially filled diffusive ceiling grid for a great live feel and response.
I was also contracted to design and install all of the recording equipment and infrastructure, based around a ProTools Control 24, Macintosh G5, and HD3 system, with a compact yet effective compliment of outboard gear and extensive microphone complement.
---
Thomas E. Trask Auditorium 2004
The Trask Word & Worship Center on the campus of North Central University was remodeled in 2004 with major reconstruction of the main sanctuary to provide improved electro-acoustic response and the addition of a smaller chapel.
Absorption was added to much of the sanctuary walls and balcony face, portions of the original hard plaster ceiling were removed to provide additional low frequency trapping and then treated with acoustical spray insulation.
The new chapel was designed for diffusive/absorptive features to enhance the split block finishes on the walls, and the stage & back-stage area were specially sealed for minimal flanking leakage, as simultaneous programs often occur in these rooms
---